Components of The Executive Leadership Forum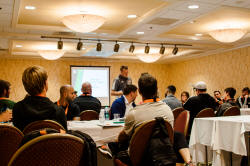 It Isn't Just Training --
It Isn't Just Coaching --
It Isn't Just Peer Support Groups --
It is All of These and So Much More!
Our research indicates that lasting change takes time, so your membership in the Forum is for one year. Over the course of that year we will challenge your beliefs about how organizations should be operated and your role as an executive manager. We will also challenge your concepts about leadership, employees, customers, and culture. Our research revealed that the best organizations don't just do things differently; they do different things. Over the course of your one-year membership you will learn these different things, and then be given opportunities to apply that learning back on the job with your real team.
After all, that is what developing leadership is all about; the impact that is created when leaders unleash and focus the energy of their employees on the goals of the organization. When employees are energized by their leaders they end up doing exceptional things. This is what sets the best organizations apart from the rest.